Nyewood CE
Infant School
Smiling, Caring and Learning Together on a Journey with God
Once upon a time...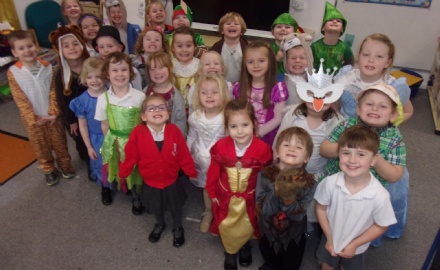 In Early Years we started our new topic this week by coming into school dressed as story characters from traditional tales.
The Big Bad Wolf
The Elf and the Shoe Maker
Peter Pan
The Ugly Duckling
"I was Peter Pan. He puts his sword down on Captain Hook and says codfish!" recalled Jacob.
"I was dressed as Aurora. She has Maleficent and Mrs Viner was Maleficent. She tried to get Aurora when she was a baby." Explained Matilda.
The first traditional tale we have been studying is Goldilocks and the Three Bears using our Talk for Writing approach to learning the story. This is where the children come up with actions as they say the story aloud as a group.
"We did Goldilocks and the three bears actions." said Max.
"Goldilocks came into their house and eated all their porridge up." recalled Grace C.
"She seed a baby chair and she sit on it then ate the baby porridge." Vinnie explained.
"And the chair broke. Baby bear felt angry." said Alfie.
This week the children became Goldilocks in our PE lesson where we have been working together to choreograph a routine to retell the story. If you have access to the CBeebies website, look for Goldilocks and the Three Bears read by Mr Bloom on the 'Radio' section of their site and ask your child to show you the routine so far!
Also this week we have been exploring (and more importantly... eating) porridge!
"We eated porridge! I like it a little bit." said Milana.
"I liked it too, it was sticky." Toby added.
"It tasted like slime!" Francesca complained screwing her nose up!