Nyewood CE
Infant School
Smiling, Caring and Learning Together on a Journey with God
Who's Afraid of the Big Bad Wolf?!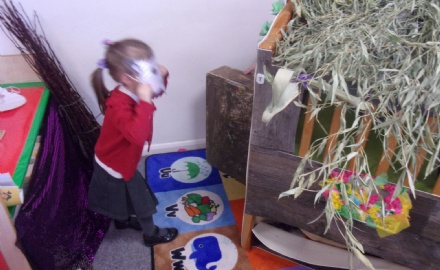 We celebrated World Book Day by coming into school dressed in our pyjamas or by dressing up as our favourite book character.
"I was dressed up as the Hungry Caterpillar." said Bradley.
"I wear my pyjamas. A unicorn was on them." Emma recalled.
"I weared my pony jamas." added Kacy.
During the day we got to enjoy some time reading our favourite books.
"My book was about Mungo Monkey. In the morning he wakes his baby sister up and I was in my Peppa Pig onesie." said Esme.
Throughout the day the children and staff took part in 'Stop, Drop and Read'..
"On book day we had to stop what we were playing with and read a book straight away." explained Beth.
In Literacy we have now moved onto reading a different traditional tale...
"We are learning about the Three Little Pigs. We builted the stick house." said Matilda.
"It was a wood house. The second little pig built it." added Edward.
"There's a big bad wolf. He tries and blows the house down." Vinnie commented.
"He blows down the stick one." said Max.
"And he blowed down the straw one. They runned to their brother's house which was the brick house and the wolf followed but he couldn't blow it down." explained Francesca.