Nyewood CE
Infant School
Smiling, Caring and Learning Together on a Journey with God
Fe Fi Fo Fum! This week in Holly Class we've had great fun!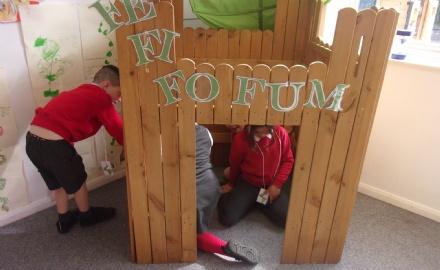 Well our beanstalk has continued to grow this week and is now heading across the ceiling! On Thursday we came into school to find some strange things had happened...
"It has poisonous spikes on it!" exclaimed Alfie.
"The giant did it to make Jack stuck up the beanstalk." explained Max.

"There was a aeroplane that flew down with a letter from Jack." said Matilda.

"He asked us to make a parachute." recalled Grace L.
This week the children explored what materials from Jack's list would be best to make their parachutes.

"I want to make a foil parachute because metal is quite strong so it won't break and the air won't go through it." explained Toby.

"Mine is going to be paper circles." said Kacy.
Next week the children will plan and build a prototype of their parachute so stay tuned to see what they come up with!
Also this week we have continued with our seed growing experiment. Edward made some interesting observations...
"The best place for the seeds to grow was in the soil. The next best place was the stones. Then the slate. None grew in the sand." he said.
"In Literacy we made our own Jack and the Beanstalk stories. In mine, Jack couldn't get back down." Beth said.
This week we have continued to work on our outside gardening plots. As our "Gardening Expert" Tommy led a group of children, sharing his knowledge about how to plant and grow strawberry plants.
A huge well done goes to Bailey this week for being the first member of the class to have used the reading area frequently during choosing time. He has received 5 magic beans which have grown into 5 Dojo points!
Who will be next to fill their lucky bag?