Nyewood CE
Infant School
Smiling, Caring and Learning Together on a Journey with God
Saving Jack!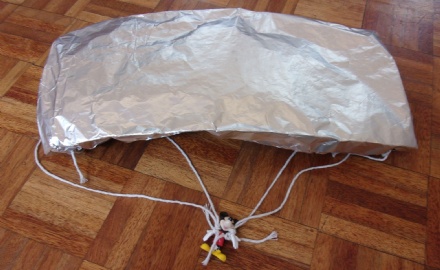 What a super busy last few weeks we've had with our parachute challenge! After deciding what material we thought would be the best to make the parachute from, we worked in teams to decide what shape and size to build our parachute. We also considered what material to make the cord from.
Meanwhile Jack was getting very impatient and sent each child a personalised letter to check they're working hard on getting him down from the castle in the clouds!
"We saw paper aeroplanes and they had a little note on them from Jack. He needs our parachutes to get back down." said Max.
"We have been making our parachutes and mine was a paper napkin. We asked if we can have the bin from the photocopier and we taked it to our classroom and we drawed around it to make a big circle and it took a long time!" Esme.
Watching the children working together to construct their parachutes was amazing! They applied their knowledge from across all areas of learning:
Physical: using their fine motor skills safely to cut, hole-punch, tie knots and apply tape.
Communication and Language: listening and responding appropriately to each others' thoughts.
PSED: using their skills of negotiation to bring disagreements to a compromise. Turn-taking and sharing out responsibilities within the team.
Maths: measuring cord lengths and comparing sizes and shapes.
EAD: joining materials together using various techniques and altering their work when needed.
UW: predicting what would happen based on their previous experiences of materials, parachutes and shapes.
Once every team had created their parachute, as a class we thought about how we were going to test them safely and what we needed to do to make it a fair test.
"We maked a warning sign to protect people from getting hurt or broken bones." said Esme.
"Amanda climbed up the climbing frame and she dropped the parachute. We used a stop watch to time it and then we writed the time down." explained Matilda.
"The square paper napkin was the best because it was the slowest going down." recalled Beth.
"The cord was dental floss for flossing your teeth." said Jacob.
"It was one second 50." said Grace L.
We have written back to Jack and sent our letters off in a paper aeroplane so hopefully over half term he has managed to parachute back down to his Mum.
As well as being super busy with our parachutes we have also managed to squeeze in time to continue learning about growing.
"We've been learning the flowers. The flower part is at the top and roots are at the very bottom." explained Edward.
"Our beans have grown in the jars. I can see leaves on them, and roots." observed Francesca.
"We've been learning about weighing too". Matilda added.
"We were human scales by getting heavy and light things and we would see which one was heavier and if it was heavy we would bend down to the ground and if it was light we would go upwards." explained Beth.
"We put things in the cup (bucket) to find out if it would lift up." explained Grace L.
"We used words like 'heavy' and 'light' to talk about the objects." added Francesca.
"The stone was big and heavy. A little stone was light." Max recalled.