Nyewood CE
Infant School
Smiling, Caring and Learning Together on a Journey with God
Our Hungry Caterpillars have arrived!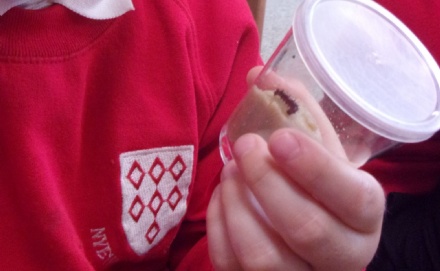 This week saw another set of new members join our Holly Family. A set of wriggly caterpillars joined us on Thursday complete in their own little homes with enough food to last a lifetime (well whilst they are caterpillars that is!)
"I can see a white web on the side of the tub." said Grace C.
"I saw two caterpillars inside the tub." Max recalled.
"The caterpillars are black." observed Freddie.
"Some of them have white on them too." added Bailey.
"They were moving with their feet. They were wiggling." Francesca said.
"They has some spikes." said Milana.
"The caterpillars will grow into butterflies." Darcy shared.
"They need to eat the brown stuff first." Bradley responded.
"I think after lunch they will have eat up all the food." predicted Freddie.
"I think longer, maybe by home time." said Beth.
"I think 2 hours." Edward commented.
Well by the end of the day there was still plenty of food left. Make sure you pop into class on Tuesday for maths games and have a look at our new friends.