Nyewood CE
Infant School
Smiling, Caring and Learning Together on a Journey with God
Dads Behaving Daddily!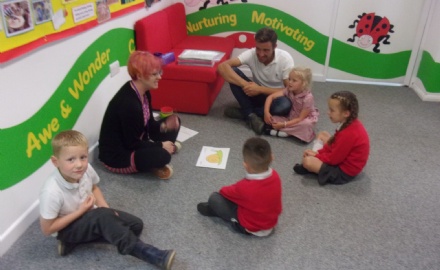 Another super busy week for all in Year R! On Monday some of us headed to The Arena with our families to take part in Huff and Puff. Over the past few weeks we have been practising our PE skills such as throwing, catching, kicking and balancing at home and then took part in lots of different games at The Arena to show off these skills.
On Thursday, Early Years was taken over by lots of our Dads (and some Grandads) who came into school to learn with us. We had fun teaching them the rules and routines of our Nyewood Family and it looks like they had lots of fun too!
Our caterpillars have grown so quickly in the past week. On Friday they had started to head to the top of their tubs ready to start the next stage of the transformation. It will be exciting to see how different they look after the weekend!