Nyewood CE
Infant School
Smiling, Caring and Learning Together on a Journey with God
Jack's been tricked!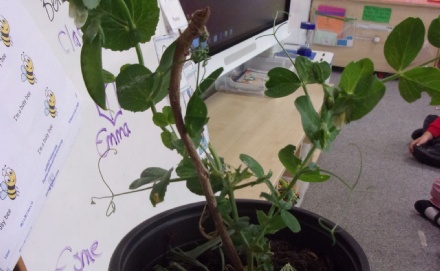 Back in April, Jack gave each child a magic bean and asked them to look after it. This week some of us brought our beans back into school.
When we looked closely at what was growing on the plants, some of the children noticed that they looked the same as the pea pods that we've had in our snack bowl this week! Either the beans are magic because they can grow peas instead of beans OR the market seller lied to Jack when he exchanged the cow for "magic beans." The children agreed that it was more likely that the market seller was lying and we discussed this during our circle time.
"He's rude because he's been mean." said Bailey.
"He was being naughty. He said they were magic beans but they was peas!" said Max.
"He tricked Jack because he thought they were magic beans but they were peas." said Esme.
"We should send a letter to Jack to tell him!" Francesca suggested.
Next week we will send a letter to Jack to tell him he has been tricked!
In maths this week we have been learning about capacity. We have really enjoyed filling containers of different shapes and sizes with sand or water.
Our fact finding about minibeasts has continued and we have written our own fact files about our chosen creature. Some of us have also explored creating various minibeasts out of different media.