Nyewood CE
Infant School
Smiling, Caring and Learning Together on a Journey with God
Fly Away Home!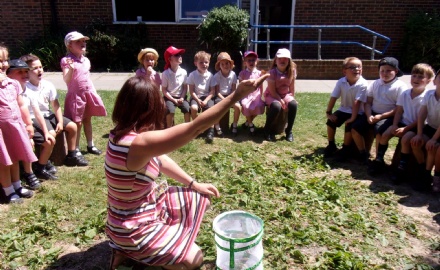 This week our not so little caterpillars emerged from their chrysalis' as beautiful butterflies!
"Ten butterflies comed out their home!." said Vinnie.
"They're orange and black." Darcy commented.
"We gave them oranges to drink the juice." explained Francesca.
Today we set them free in our school grounds.
Most flew off straight away to explore their freedom but one hung around.
We watched it tasting the flowers near the Conservation Area and looked how it camouflaged itself in with the plants and undergrowth before it eventually flew off too.
Also this week we have spent some time in Sycamore Class, getting to know the classroom layout and our new teacher.
"Miss Chandler is our teacher." said Freddie.
"I liked playing with Lego. I made a tower." recalled Jake.
"Our class is called Oak." added Milana.
In other news this week...
"We started learning about the beach and the sea." said Grace L.
"Some shells have pearls in it." Beth told the class.
"Some crabs, lobsters and hermit crabs live in shells." said our Sea Creature Expert Alfie.
We have been using a counting book linked to the seaside.
"Its called One is a Snail, Ten is a Crab." said Francesca.
"A snail has one foot. A crab has ten feet. That's why it's called that." explained Grace C.