Nyewood CE
Infant School
Smiling, Caring and Learning Together on a Journey with God
This week in Chestnut Class...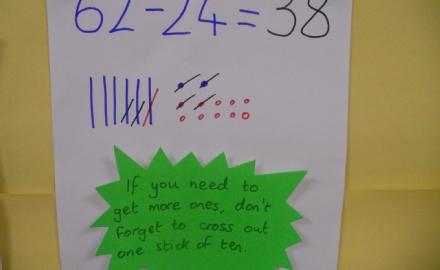 In Maths we have been learning to take away. We practised using the dienes and drawing it out. It was quite hard when we had to split some tens back into ones. We have been trying hard to make our working out neater as that helps us to get the answer correct.
We were practising our number bonds of 10, finding all the different ways you can add to make 10, some of us then used this to go on and make 100!
In English we wrote a letter to Miss Holmes to tell how about what it is like in Year 2, it is amazing what we have learnt already. We also started writing up our "wild rumpus" and we continue with this next week. We have been practising our spellings. The words we have been making sure we know this week are: put, little, here, there, have and made.
We learnt a sequence in gymnastics. Mrs Knight showed us her sequence and we had to learn and copy it. Some of the moves are really making our tummy muscles work. If you would like us to show you it at home, here is the list of moves:
10 rebound jumps, tuck, straight on the floor, tucked dish, straight, front support, pike then straddle.
In Science we have been thinking about food and the different groups it comes in. We learnt about fat, protein, dairy, fruit and vegetables and carbohydrates and how they help our bodies.