Nyewood CE
Infant School
Smiling, Caring and Learning Together on a Journey with God
Poetry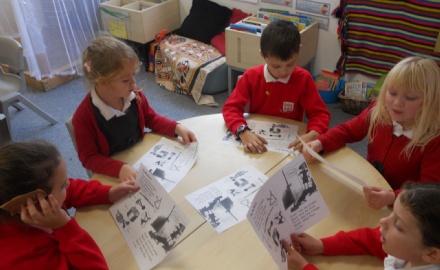 This week we have been looking at poems. We looked at what was different about a poem to a story and then chose our favourite one to learn as a group. Later in the week we then performed it to the class.
In English we wrote up our version of The Tin Forest in best, ready for our Fantastic Finish next Friday. You will be amazed at how much we have progressed so far this year.
In Mathematics we were continuing to look at multiplication and division. We have spotted how easy multiplying by ten is. We have been practising our tables using games on the computer. If you go to www.topmarks.co.uk there are lots of games that makes practising maths fun.
We have been building our own model out of junk, inspired by The Tin Forest and you will be able to see it next week at the Fantastic Finish.
We have started reading a new class story, The Hodgeheg, which is about a hedgehog learning to cross the road. We are enjoying working out what he says as he muddles up his words after bumping his head.