Nyewood CE
Infant School
Smiling, Caring and Learning Together on a Journey with God
Football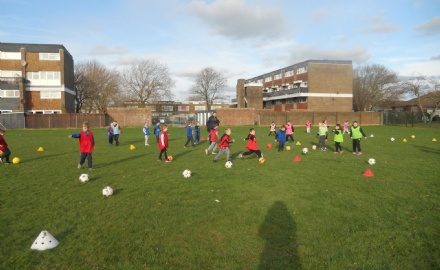 This week we had another fun but cold football session with "Mr Paul". We did lots of running around to keep warm. We are getting better at finding spaces and not just having everyone chasing the ball. This week's players of the day were Afiyah and Zak for excellent defending and thinking ahead as to where is a good space to be.
In Mathematics we have continued learning about money. We are finding recognising the new coins difficult as they don't have the number clearly written on them. Please could you let us look at them at home to help us quickly recognise them. We have been using our counting in 2s, 5s and 10s to help us work out totals; again any extra practise of this would be fantastic.
In English we were learning how to write a persuasive text about visiting Paris. We looked at how to make our text interesting and use the correct punctuation. We are enjoying learning facts about Paris both from books and the internet.
In Geography we have been learning about the countries that make up the United Kingdom and the capital city in each country. Maybe you could ask us to find them on a map?
In Science we have been researching what plants needs to grow. We are planning on having our own small vegetable patch so we can grow some food to try. When it gets warmer we are going to plant peas, carrots and cucumbers.