Nyewood CE
Infant School
Smiling, Caring and Learning Together on a Journey with God
Snow!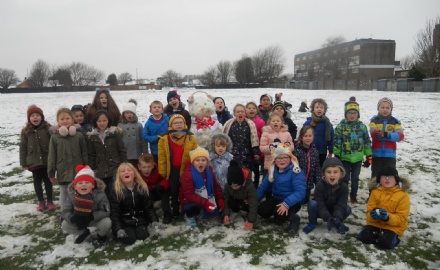 What a fantastic way to finish a week, with snowman building. We spent a happy hour building a family of snowmen on the school field. We enjoyed working together outside and did not seem to notice how cold it was. We came inside slightly damp but happy.
Due to the snow we had to have our football lesson indoors this week. We got to play crab football, so we had to move around on our bottoms. We are getting much better at thinking about defending the goals as well as attacking.
In English we have started finding out about different countries so we can write leaflets on them. It would be great if the children can find out extra facts about their country at home. We also practised using commas when writing lists in our work.
In Mathematics we were learning about reading graphs. We are getting very good at answering questions on them, but finding the difference between two groups was the hardest part.
We have been enjoying practising our mental maths using a game called 'Daily 10'. You can play it at home. It is on the Top Marks website, which has lots of educational games that are free to play. The link below should take you to the site.
In Science, we started our science experiment seeing what a plant needs to grow. We planted bulbs in different conditions. Some of us chose glitter instead of soil, some chose cotton wool, some chose stones, some chose leaves and some chose wet sand. We will find out how things grow in the next few weeks.