Nyewood CE
Infant School
Smiling, Caring and Learning Together on a Journey with God
What a week!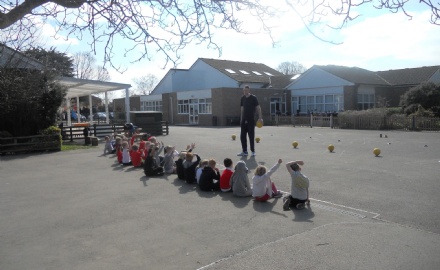 This week has been really exciting.
On Wednesday we met Paul, UK's tallest man. He was as tall as our ceiling and made everyone feel small. He taught us some basketball skills and talked to us about how its ok to be different. We also had lots of other fun activities during the day, including art and yoga and how we have to keep our mind healthy. We also learnt about how to keep our body healthy and made ourselves healthy wraps with lots of fruit and vegetables in them.
Then on Thursday we had our Fantastic Finish. In the morning we made cakes, sandwiches, flags and bunting for our tea party with the queen. After lunch the Queen came to see us enjoy our food! Then our parents could come along and do a treasure hunt with us in the playground and make crowns. We had a great time showing them all the facts we have learnt.