Nyewood CE
Infant School
Smiling, Caring and Learning Together on a Journey with God
What an exciting week!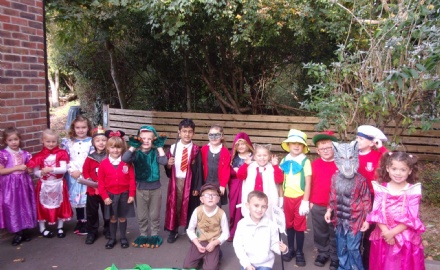 We have had such an exciting week and we could not wait to tell everyone about it!
So this week began when Miss Holmes told us that something interesting had happened over night: Mr Harvey had found a mess this morning in the Year 1 outside area, it was a crime scene! We went outside to discover lots of very large footprints, knocked over chairs and tables, loads of loose leaves and some magic beans! We became detectives and looked closely at the crime scene before finding a letter from Jack! It told us that a beanstalk had grown in his garden and when he climbed it, he was greeted by a giant so he ran away and on his journey and found himself in our Year 1 area. After putting all the pieces together we found out our new topic was 'Jack and the Beanstalk' and we are really enjoying learning about it so far!
Not only did that happen, but we came to school dressed as our favourite fairytale characters and were lucky enough to watch 4 fairytale shows that the Rainbow Theatre came to perform. We watched 'Billy Goats Gruff', 'Goldilocks and the Three Bears', 'Red Riding Hood' and 'The Three Little Pigs'.
We have really enjoyed this busy, fun-filled week and are very excited to continue our learning about traditional tales.
Sycamore Class