Nyewood CE
Infant School
Smiling, Caring and Learning Together on a Journey with God
Worms and cakes!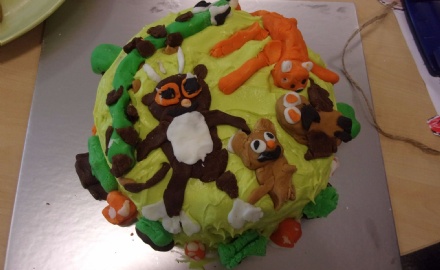 We have had a very busy and exciting week.
At the beginning of the week we made wormeries.
'We used a bottle and put stones in there.' Faith.
'We put soil in the bottle and then some sand and repeated.' David.
'We put leaves on top of the leaves.' Tallulah.
'I picked up a worm and it was wet and wiggly.' Jake.
'We put holes in black paper on top so it looks like black soil and it's dark. The holes are so worms can breathe.' Lili-May.
On Friday it was our Fantastic Finish. We did lots of exciting activities including having 'The Great Nyewood Bake Off…'
'We made cakes.' Darcie.
'We showed our Gruffalo dance.' Chloe.
'We made Gruffalo cake with all of the characters on it.' Faith.
'We had a competition with cakes and we had the best detailed cake.' Saakshyat.
'It has been an exciting day because it is only 25 days till Christmas.' Charlotte.
'In Worship Mrs Cobb lit a candle which burns down till Christmas.' Lucy.
'We made our own advent calendar in class that we are going to open everyday till Christmas.' Bethany.