Nyewood CE
Infant School
Smiling, Caring and Learning Together on a Journey with God
A Message from Rev'd Jo...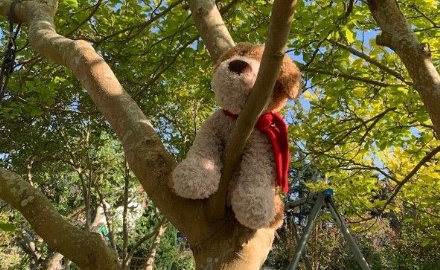 Monty was playing the garden at the weekend and seeing him hiding in the tree in our garden reminded me of a story that Jesus used to tell. I told the story to Monty and he thought that you might like to hear it to, he also thought you would enjoy seeing a picture of him climbing the tree.
Zacchaeus was a man who lived in the time of Jesus in a place called Jericho. He was a rich and important man, but not very well liked. He was one of those people who had to collect taxes, that meant he had power over people and could ask them to give him more money than they had too.
Even though he was rich and had a good job, Zacchaeus didn't seem to be very happy. We don't know what was worrying him, but we do know he decided that he would like to go and see Jesus. Jesus was passing through his town and was even more famous and important than Zacchaeus.
Even though Zacchaeus was important he could not get through the crowd to the front to see Jesus. He was not very tall and because he cheated people, they didn't want to move out of the way to make room for Zacchaeus. Zacchaeus was determined to see Jesus so, just like Monty he climbed a tree.
I wonder whether you have ever wanted to do something so much you would do anything to make it happen?
I think, at the moment most of us would give anything to be able to see our friends again. If you think about how much you want that, it might help you understand how much Zacchaeus wanted to see Jesus.
So, Zacchaeus climbed his tree and you might remember what happened next, Jesus stopped and spoke to him and told him that he was coming to eat at Zacchaeus' house. The people around Jesus must have thought Jesus was going a bit mad, or maybe they thought Jesus wanted a fancy dinner, Zacchaeus was very rich after all, but I don't think Jesus was after a tasty dinner, do you?
Jesus went to Zacchaeus' house and even though he was a very important person, Zacchaeus was nervous to have Jesus in his house. He knew that Jesus knew all the bad things he had ever done and just how greedy and mean he had been. As he listened to Jesus, he realised that he could change how he behaved and make it alright again.
Being stuck at home, or being at school, is very difficult for everybody, children, parents and teachers alike. When we are worried or anxious or bored it can be easy to be grumpy or lose our temper more than usual. Monty thinks that we should remember that Jesus knows all of the things we get up and how we feel about it all. What makes Monty feel better and helped Zacchaeus too, was talking to Jesus about it and praying for the things we are worried about can help us too.