Nyewood CE
Infant School
Smiling, Caring and Learning Together on a Journey with God
Celebration Worship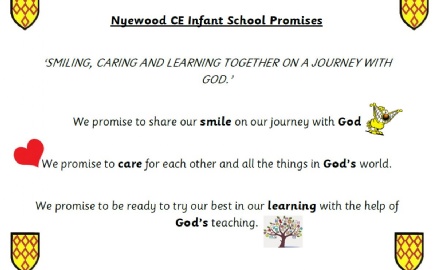 Celebrations across the school...
This week we held our very first virtual celebration worship. I was lucky to be able to share with the children across the school the achievements from each class through our virtual celebration worship.
This week I challenged the children to show our school promises in all they do:
- We promise to share our smile on our journey with God.
- We promise to care for each other and all the things in God's world.
- We promise to be ready to try our best in our learning with the help of God's teaching.
I was so impressed to hear how children are showing kindness, persevering with their learning and caring for each other and our school. Well done to everyone who received a celebration certificate this week.
Don't forget to get your questions in for our Infant and Junior School Q&A session next week. Please can all questions be in by Wednesday 23 September. We will post the session on the website on 25 September.