Nyewood CE
Infant School
Smiling, Caring and Learning Together on a Journey with God
Our new playground adventures…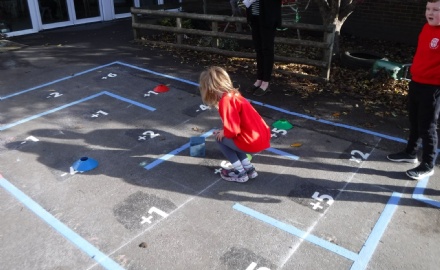 By now, I am sure you will have seen our wonderful new playground markings in all of our outside areas.
This week the children have thoroughly enjoyed exploring the activities and using these in fun and exciting ways. It has been wonderful to see the children becoming even more active in their play whilst exploring some super learning opportunities.
I have talked to the children about their favourite markings:
'I love the rainbow. It makes me smile!'
'I am practising my phonics – you can hop on every sound! They are digraphs.'
'I showed my friend how I was feeling today.'
'My favourite is the obstacle course. I can do it really fast!'
Do ask your children what they have enjoyed about their playtimes this week; it has been really special to hear about all the new ways they are playing together.