Nyewood CE
Infant School
Smiling, Caring and Learning Together on a Journey with God
A wealth of experiences...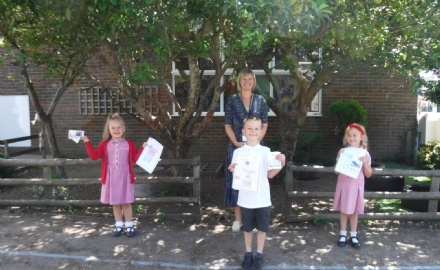 As we end our penultimate week of this year it has really struck me how many special experiences our children have had despite the challenges we have faced.
This week the children have enjoyed our Teddy Bears' Picnic and many, including children learning at home and at school, took part in our design an outfit for a teddy competition. The children's ideas were fabulous and their creativity fantastic! Well done to our winners featured in the photograph above. Thank you for your generous donations to support our purchase of new outdoor learning equipment for the school.
These opportunities have not been limited to this week so I asked children across the school about their favourite experiences this year and there were so many…
Many children talked about our wonderful International Week in which the children learnt about the amazing, diverse world in which we live.
Mind and Body week was a highlight for a number of children – particularly our sports events.
I was pleased to hear lots of children talking about particular aspects of their learning; writing, reading, mathematics, PE, art, RE all featured heavily in children's favourite moments.
Nowhere was it more clear how special the times in our Nyewood Family are than in the superb Year 2 Leavers' Worship we shared on our website this week. As the children shared their memories it was clear to me that the experiences the children have had will stay with them for many years to come.
Now, as we enter our final week of the year, we look forward to continuing to build on these memories with our beach trips and final worships together.