Nyewood CE
Infant School
Smiling, Caring and Learning Together on a Journey with God
Our School Promises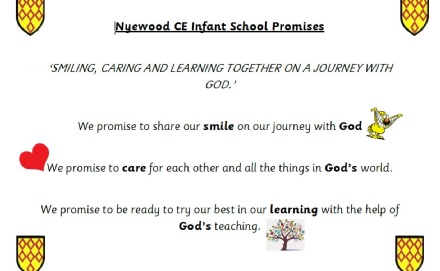 Smiling, caring and learning together on a journey with God.
This week we have been really thinking about our school promises and how they will help us to smile, care and learn together on our journey with God.
The children have done a fantastic job thinking about our school promises in all aspects of school life. Today in our celebration worship we particularly celebrated children who had shown our school promises this week in their learning and behaviour; I was so impressed with the way children showed kindness to each other, care for the world around them and tried their best with their learning.
We would love you to share how your children have shown our school promises at home; please let us know by dropping a note in to your child's class during the next week.
I have included a picture of our school promises in today's blog to help with this challenge.