Nyewood CE
Infant School
Smiling, Caring and Learning Together on a Journey with God
Black History Month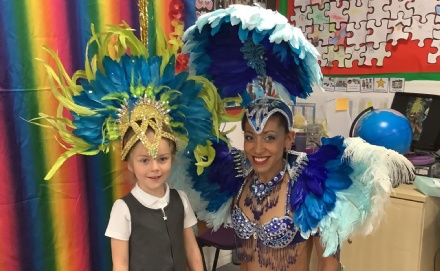 Welcome to our Nyewood friend Kim!
To celebrate Black History Month the Early Years had a focus on the Caribbean this week. Nyewood Family friend, Kim joined us in school to help us with our learning. She has performed in Trinidad and Tobago Carnival and Notting Hill. She visited us to chat with each class about her family origins and how and why carnival is celebrated. In the Caribbean, carnival happens at the start of Lent and is a celebration of freedom and inclusion for all.
Prior to her visit, the children made feather head dresses, colourful masks and crepe flower garlands during their independent learning to wear on the day.
Kim spoke to the children about where her mother comes from and why carnival is an important part of Caribbean culture.
She shared photos of her whole family participating in carnival, talked about how her costumes are all custom made and explained that some are so heavy, that they require wheels to move them along!
She taught the children Limbo, which originates in Trinidad and the children had great fun getting into the carnival spirit by dancing, playing instruments and having a go a limbo.
On Friday the children across the school enjoyed a virtual storytime with Simo (Mrs Charlton's husband) who very kindly agreed to share with us a traditional Caribbean counting rhyme.
We have all learnt so much about the culture of some of our school families this week. If you would like to share you family's culture in some way, please do let us know as we would love to hear from you.