Nyewood CE
Infant School
Smiling, Caring and Learning Together on a Journey with God
Wonderdome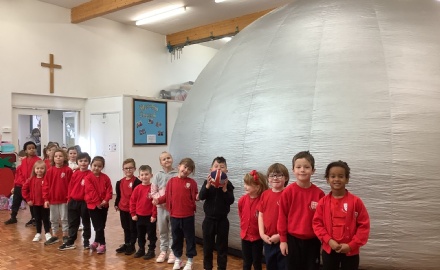 Read on to find out about our Wonderdome experience this week...
This week our children had the amazing opportunity to see a planetarium show at school, inside an inflated dome. The show was by 'Wonderdome' who were able to lead the children in a truly unique learning experience.
Once inside the inflatable dome, the children were immersed in darkness, followed by a range of images and sounds linked to space. I had the pleasure of joining Apple Class for their time inside the dome. It filled me with so much happiness to hear the buzz of excitement from the children whilst we were inside. We all learnt so many interesting facts about space, including planet names, planet sizes, how long it takes for the planets to orbit planet Earth, and so much more.
I hope that the children are able to remember their Wonderdome experience and share their happy memories with you.
Once again, I am looking forward to seeing you all back on Monday. I hope you all have a great weekend.