Nyewood CE
Infant School
Smiling, Caring and Learning Together on a Journey with God
Mathematics workshop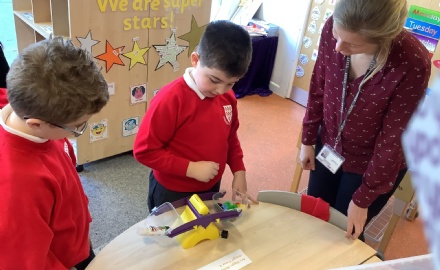 Today we had a fabulous afternoon learning all about mathematics...
On Friday afternoon this week, we organised a mathematics workshop for our children. This involved each classroom being turned into a mathematics room. We had various resources out across all the areas of mathematics such as number, shape, measures, and so on. The children enjoyed being set various mathematics challenges and used the resources to try to solve them.
I enjoyed working alongside the children to try to solve the various mathematics problems too. In one class, we were using the balance scales. We were trying to work out if the biggest object is always the heaviest. We had lots of fun experimenting with various objects around the classroom.
In addition to the mathematics workshop, I had the privilege of being able to join the Early Years classes in person this afternoon for their celebration worships. Their beaming smiles were such a pleasure to see. It is always one of my favourite worships to lead as I love finding out which children have been particularly working hard. Well done to all the children who received a celebration certificate today.
Thank you to all of our children for being super this week. I hope you all have a great weekend.