Nyewood CE
Infant School
Smiling, Caring and Learning Together on a Journey with God
Expressive Arts and Design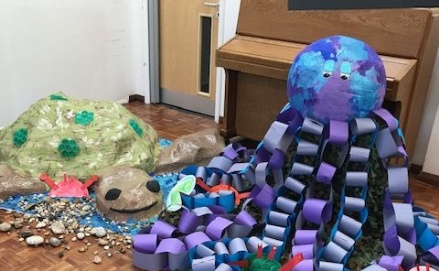 A fabulous exhibition by our amazing children!
This week saw one of my favourite events in our school calendar this year – our art exhibition. I was absolutely amazed at the quality of the final outcomes that the children across the school produced.
Starting with the children in the Early Years who made a truly fabulous giant octopus as well as some beautiful jellyfish and clay shells. They even used their woodwork skills to make miniature boats – they were brilliant!
Then in Year 1 the clay sea creature sculptures were amazing but an absolute highlight has to be Wallace the Turtle – he is fantastic!
In Year 2, I loved looking at the wonderful recycling installation at the front of the school and spotting the hidden sea creatures! Well done Year 2 for doing your bit to tackle plastic waste on our seafront. The Hazel miniature turtle, Chestnut seascape and Apple stained glass window were all also really special.
On top of all of this the children still found time to develop their own pieces of artwork which were sold at the exhibition. They were a true reflection of children's skills as well as their hard work and dedication.
All in all it was a wonderful event that was so well attended. Thank you to all the families who were able to come along and support this and a special thank you to Miss Holmes and the EAD Team for all their hard work in organising every aspect.
We now have only one week to go and are looking forward to the final events of the term, including our Year 2 Leavers' Service at St Wilfrid's Church and our end of year picnic lunch from Chartwells. Here's to a great final week of term!