Nyewood CE
Infant School
Smiling, Caring and Learning Together on a Journey with God
A little ray of hope and sunshine from Nyewood...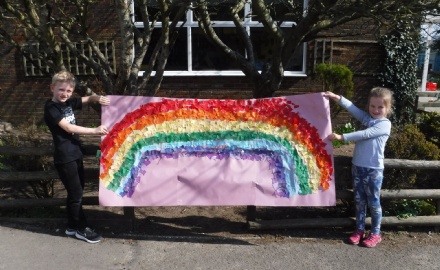 The end of our first week in a new way of working...
For the majority of you, today marks the end of your first week of home-learning. I would like to say a huge well done for your hard work, great effort and super attitudes. I have heard from many of your grown-ups that you have been a credit to our Nyewood Family.
Don't forget, your teachers will continue to update the class blogs each day with exciting and fun learning activities for you to try out so do keep checking in!
For those children who have been completing their learning and activities in school they have worked hard and enjoyed the same activities as all of you at home, so when we all come back together as a Nyewood Family you can share your experiences and learning.
We would love to see some of the home-learning on our school Facebook page so, grown-ups, please do post any pictures and completed learning for us all to see.
I would also like to say well done to all your grown-ups who have turned into teachers this week – I know you are all doing a fantastic job!
With very best wishes to stay safe and well from Miss Wells and the rest of the staff in our Nyewood Family.