Nyewood CE
Infant School
Smiling, Caring and Learning Together on a Journey with God
'Best Day Ever'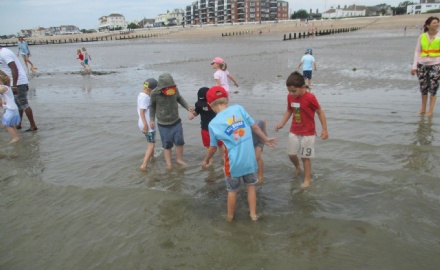 We had an amazing day at the beach this week. The children were so well behaved and got so much from the trip. Thank you so much to all the parent helpers, we couldn't have run the trip without your help.
"We went in the sea." said Michaela.
"We saw crabs. A big one was hard (shell) and the smaller one was soft (shell)." said Dario.
"We made big holes (in the sand) and we found water in the holes." said Elijah.
"We made a starfish and I saw a dinosaur rock." said Buddy.
"We made some sandcastles." said Rachel.
"We made a seahorse." said Olivia.
"Me and my friends made a fish with rocks and seaweed." said Marianne.
"My group we all made a starfish, we used water, seaweed and rocks." said Bella.
"We was digging in our buckets and making sandcastles." said Eli.
"We went for a little paddle in the sae." said Luca.
"We were walking to the beach. We saw crabs in the rock pools. Michaela's daddy picked them up and talked about them." said Emelia.
"We picked some shells" said Mihail.
"I made a massive hole." said Oscar.
"We saw some sand worms." said Dario.