Nyewood CE
Infant School
Smiling, Caring and Learning Together on a Journey with God
Early Years News May 28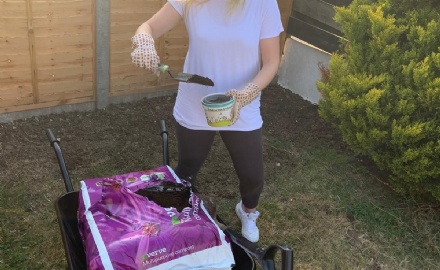 Hello everyone!
I hope you are all having a great half term and are enjoying the lovely weather that we have been having. I have loved being out in my garden in the sunshine this week. I previously had lots of weeds growing across my lawn and I have spent a long time digging these all out. Although now I have lots of holes in my grass where the weeds had been! I have been planting grass seeds in these holes in the hope that they will grow and cover these up!
As you can see in the picture, I have also been planting some new flowers in various plant pots. I have been watering them each day but they haven't grown yet. However, it can take some time for flowers to grow, so I will just have to keep checking them and be patient.
I thought I would end my blog with a joke (hopefully you find it funny!):
How do you make an octopus laugh?
With ten-tickles!
Stay safe everyone and speak to you soon. From Miss Adlam.