Nyewood CE
Infant School
Smiling, Caring and Learning Together on a Journey with God
EYFS Home Learning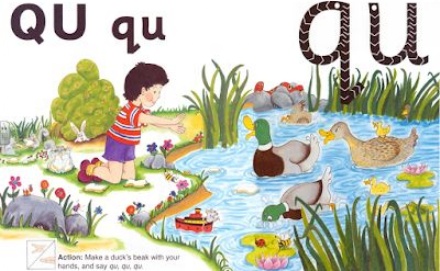 DAILY EXERCISE
Can you think of some people who exercise everyday? Why not try this workout:
https://www.youtube.com/watch?v=VMj2ZgQqsNA
Reading:
Today we are going to learn the qu sound. Qu is a digraph, this link might help your grown ups if they want to find out a bit more about digraphs. https://www.youtube.com/watch?v=nfWCcIz2Qjk
Watch this introduction to the qu sound. https://www.youtube.com/watch?v=h2_XNYKxgFQ
Have a go at writing qu.
q - round the curly caterpillar like a c and into a q.
u - down the ladder, up the ladder, down the ladder and flick.
Have a go a reading these words: quack, quit, quilt, quick, queen.
Writing:
Can you remember how to spell some of the common exception words you practised yesterday?
the, to, no, go, said, you, and.
Have a go at writing these… could you use a chalk? A paintbrush and water? Big bits of paper and disco phonics? It's completely up to you.
Mathematics: Close your eyes… stand up when you think a minute has passed. Did you stand up too soon? Or too late? Or on time? Did you think a minute was longer or shorter than it actually is? Or did you get it exactly right? How many times can you write your name in 1 minute? Have a competition with your grown up, brother or sister. Who can write their name the most times in 1 minute? Why do you think someone can write their name more times than others?
PSED:
We are going to finish with our mindfulness session today. Ask you grown up to talk you through it.
Please get into your mindful bodies – still and quiet, sitting upright, eyes closed.
Now place all your attention on the sound you are about to hear. You could use an object that makes a sound with it gradually fading away e.g. a bell or wooden spoon on a metal pan. Listen until the sound is completely gone.
Open your eyes when you can no longer hear the sound.
Repeat a few times and when you have finished, slowly, mindfully, move your hand to your stomach or chest, and just feel your breathing.
Grown-ups you can encouraged you child/children to stay focused during the breathing with reminders like, "Just breathing in … just breathing out …"