Nyewood CE
Infant School
Smiling, Caring and Learning Together on a Journey with God
Castles and Dragons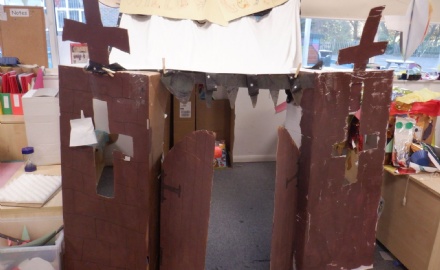 This week we have finished making our castle in the classroom. We have cut, painted and glued to make a large castle we can play in. We also spent time building smaller castle from boxes.
We have been thinking about what we are good at, and the people who are special to us and drew them on shields. We have been using our phonic sounds to help us label the parts of a dragon.
In maths we have been learning about how to estimate. We enjoyed challenging our friends to estimate the number of beads in a pot then counted to check how accurate they were.
We have been starting to learn about the Christmas story and why it is important to us. We have also talked a lot about having kind hands and what this looks like.
Our sound of the week is 'd' and the word is 'into'. We have been practising recognising numbers 13 and 14.