Nyewood CE
Infant School
Smiling, Caring and Learning Together on a Journey with God
Cherry Class Blog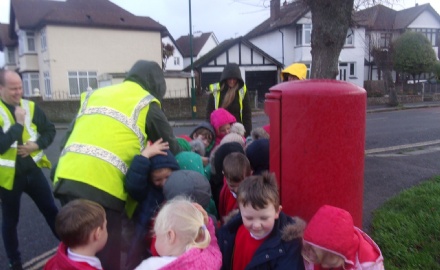 On Monday we went to post our Christmas letters to Father Christmas. We managed to dodge most of the showers and kept fairly dry. Thanks to all the parent helpers who made the trip possible.
In maths we have been using everyday language to talk about time and how we can measure it. "We can use a timer to share, " said Isla. "I get up at seven o'clock," Cass told us. We talked about how long a minute was and counted to 60 whilst watching the second hand on our classroom clock.
We have also been talking about how important it is to listen to others and to share the activities and resources in our classroom.