Nyewood CE
Infant School
Smiling, Caring and Learning Together on a Journey with God
Rainbow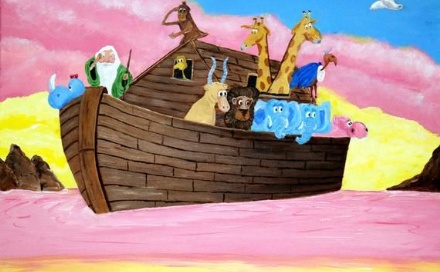 Daily exercise idea:
If you can't get out for your daily exercise today, here is something you could try at home:
Using Real PE (see yesterday's blog for login information), can you complete the 'I'm Riding on my Bike' activity? You can choose your own activities by selecting from the dashboard menu. You will find this activity in - Core Real PE – Foundation - Unit 1 (personal) - Lesson 1.
Project Day!
Mondays and Tuesdays are our topic days, where we think about other subjects that are just as important as reading, writing and maths!
Today we are learning to: Explore the sounds of instruments and to choose the resources we need for our activity.
Yesterday we hope you had fun creating your own versions of Noah's Ark. Today we are going to continue exploring this story through music. The link below is to a song about Noah's Ark. Please listen carefully to it and call out the names of each animal as they appear so that your grown-up can make a list of them for you.
https://www.youtube.com/watch?v=0mrbhsusOGM
Task 1
Have a think about the animals in this song and the sounds they make with their mouths, feet, wings or fins. Talk about this with your grown-up. Are the sounds loud, quiet, short, or long?
Task 2
We would like you to create your own family band so that you can play along with the song. First, you need to find some instruments. The kitchen is a good place to start! Have a think about those animal sounds as you search for instruments e.g. you might scrunch a plastic bag to represent one animal, scrape a wooden spoon down the cheese grater or bash a saucepan!
Task 3
Once you have gathered your 'instruments', you will need to organise the musicians in your band. Some family members might have to play more than one instrument! You are going to be the conductor. As the song plays, it is your job to point to the correct musician to play their instrument at the right time for each animal. You might even like to spend time learning/reading the song lyrics too! Have fun practising and don't' forget your best air guitar! Maybe if your family are feeling brave, your grown- up could film your performance for our Facebook Page!
We would LOVE to see what you have created over the past two days of topic learning so ask your grown-up if they can put some pictures up on our Nyewood CE Infant School Facebook Page or the Nyewood CE Infant School - PTA Facebook Page.
Don't forget to try and enjoy a reading experience with your grown-up every day! Reading food packets, instructions for board games, clues, letters/postcards from friends, recipes or signs you spot on your daily exercise are just as important as stories, magazines, or information books!