Nyewood CE
Infant School
Smiling, Caring and Learning Together on a Journey with God
Cherry Class Blog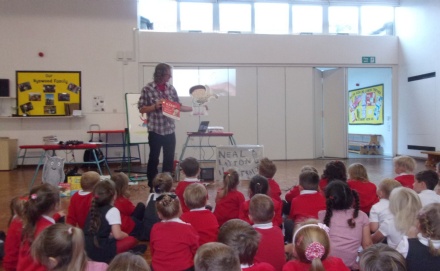 Neal Layton, the illustrator of Stanley's Stick, came in this week to talk to the children about what he does. He showed us how he draws Stanley and read the story of Stanley's Stick. He was highly entertaining, adding lots of effects to go with the story and the children really enjoyed listening to him.
The Year Ones have been designing and making their own stick like Stanley. "I made a fishing rod," said Mason and Toby told us, "I made a wand with some sparkles."
We are focusing on reading as a priority this year. Your child has been given a reading book and can choose another from our classroom reading box. They also have a reading record which we encourage you to write comments in when you hear your child read to you. Every time they read and it is recorded in the reading record we let them stamp their chart. We catch up with the stamps when we hear them read in the class. Each time they complete a full chart we will award a Reading Certificate.