Nyewood CE
Infant School
Smiling, Caring and Learning Together on a Journey with God
Cherry Class Blog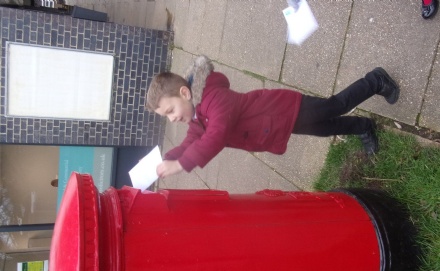 This week's highlight was our visit to the Post Office. We posted the letters we had written to our grown-ups to say thank-you for our Christmas presents. Many thanks to the parent helpers who came with us. We couldn't do it without you!
In Literacy we have been sounding out and writing simple words; 'd - o - g dog,' said Gabi as she wrote her word. In Maths we've been describing where things are; 'Cherry Bear is on the top of the chair,' Matilda told us. 'Behind the chair,' said Olivia.
At story time we've been listening to stories without looking at the pictures, and making our own pictures of what we think is in the story.