Nyewood CE
Infant School
Smiling, Caring and Learning Together on a Journey with God
Cherry Blog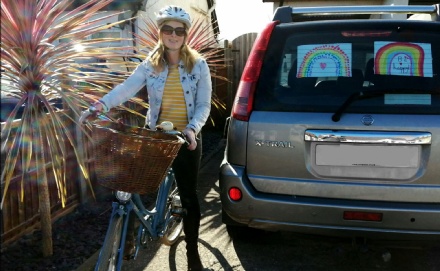 Hi to my wonderful Nyewood Family! I'm missing your little faces so, so much! It's been lovely to see some of you on the Nyewood Facebook page so please keep the photos coming!
Here I am on my bike about to go out for my daily exercise, a ride around the block! Here is a bike related joke for you:
Why couldn't the bicycle go out for a ride?
... Because it was two tyred!
I hope you like the rainbows we have stuck to the car to cheer our neighbours up. I bet many of you have done this too!
I've also been learning a new skill whilst being shut in - baking! Mrs Macrae and Mrs Charlton are experts at this so they have been helping me out by sending me some recipes. My first cake did taste yummy and didn't break anyone's teeth so I think I'm winning!
Lots of love to you all.
Mrs Smart xxx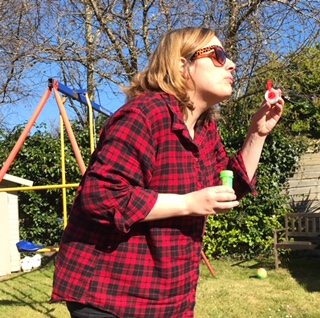 Hello Everyone,

I hope you are all keeping safe and well.

It is so nice to finally see some sunshine and warmer weather. I have been out in the garden with my little girl. We have played ball games, including football, throwing and catching, golf and tennis. We have also made our own racquets out of paper plates and sticks. We then used a balloon as a ball so we could play tennis indoors! Whilst outside, we also made our own bubble mixture and blew bubbles. We had lots of fun seeing if we could pop the bubbles with different parts our our bodies. It was really funny, trying to pop the bubbles with our elbow!

We have enjoyed playing traditional games such as Snap, Connect 4 and some board games. However, we discovered that we didn't have a game of Snakes and Ladders, so we drew our own. It can be lots of fun creating your own games, perhaps you could have a go?

It can be boring having to stay at home all day, every day, however on the bright side I have more time to do one of my favourite things... baking! I have made a chocolate cake, some rock buns and some cupcakes. Today, I have made a quiche to have for tea with my family. Yummy :-)

It has been great seeing what everyone has been up to from the photos your grown ups have uploaded on Facebook, I will definitely borrow some of your ideas to do at home over the next few weeks.

In the meantime... I leave you with a couple of jokes that I hope will make you smile.

How many tickles does it take to make an octopus laugh?
Ten-tickles.

What does a frog say when returning each of his books to the library?
Read-it, read-it, read-it.

Happy Easter everyone, take care, stay home and stay safe.

With very best wishes from Miss Chandler.