Nyewood CE
Infant School
Smiling, Caring and Learning Together on a Journey with God
Cherry Class Blog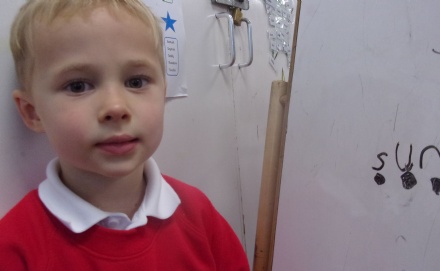 Our learning in phonics is really starting to have a positive impact on our writing. This week lots of children in Cherry Class have been inspired to write, sounding out words, writing the sounds and reading them back. Mason wrote his word on the whiteboard and read it back to me; "s-u-n-sun." "P-e -n is pen," Sam told me. "C-a-t is cat," said Rae. "L-o-g, log," Syzmon could tell me.
We also reminded ourselves how to keep safe by washing our hands properly and sneezing and coughing using a tissue or the crook of our elbow to sneeze and cough into. We did a science experiment to see how using a tissue can stop germs spreading.
We have also been practising our Nativity - watch this space next Friday for the Cherry Class Nativity.
Our word of the week was 'into'.
Our sound of the week was 'g'.
Our numbers of the week were 15 and 16.
In our reading we were learning to summarise what we have read.