Nyewood CE
Infant School
Smiling, Caring and Learning Together on a Journey with God
Cherry Class Blog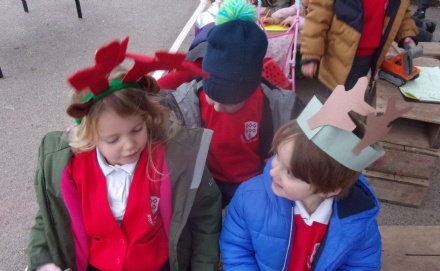 We built a sleigh this week using the community blocks and used it to deliver presents. "I'm an elf now," Hugo told me as he took presents from the sleigh to 'deliver' to the children. "I'm Rudolph, red nose reindeer," said Louie.
We've also been making patterns using multi-link, paper chain patterns and stripy socks to go on our elves.
For writing we have been creating our own Christmas card and writing a message inside.
Telling Christmas jokes is very popular in Cherry Class - can your child tell you one of our jokes?
What do snowmen do at the weekend? ............. Chill out.
If you have a joke you think we might enjoy send it in with your child and they can share it with the class.