Nyewood CE
Infant School
Smiling, Caring and Learning Together on a Journey with God
Cherry Class Blog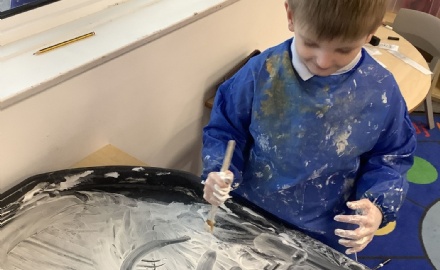 Happy New Year to everybody!
We've made a great start to our new term. We've been exploring Winter and comparing where we live in Bognor Regis with the Arctic. "There's no trees,"said Bethany when we were looking at pictures from the Arctic. "The fox is white," noticed Mia. "Foxes are brown where we live," she said.
We've been writing about the animals that live in cold parts of the world, saying the sounds we can hear and using our phonics cards to help write the letters. Rudi could hear the first and last sounds in seal, "Seal ... s, l," he said and wrote them.
We created our own snow with shaving foam and used it to write and draw.
We really enjoyed our Woodland day on Wednesday looking for signs of Winter.
In Maths we've been ordering numbers from 1-10 and counting out all-sorts to match number cards. Patrick chose number cards 2 and 4, counted out all-sorts to match each group, and told me "Two and four is six."