Nyewood CE
Infant School
Smiling, Caring and Learning Together on a Journey with God
Cherry Class Blog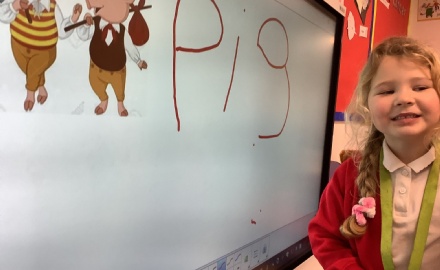 This week we've been looking at Traditional Tales and reading the 'Three Little Pigs'. We have been putting actions to the words to help us remember them. We've been making the different houses to use to act out the story.
"Little Pig, Little Pig, let me in," said Iyla. "Not by the hair on my chinny chin," Cristopher replied.
"I can write pig," Amelia said, "p - i - g - pig," she said writing the word.
In RE we've been reading about the miracles that Jesus performed. "He walked on water," Bethany told us.