Nyewood CE
Infant School
Smiling, Caring and Learning Together on a Journey with God
Cherry Class Blog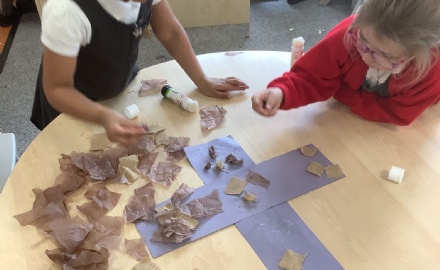 We've been really busy this week in Cherry Class. We started the week by opening the Cherry Class Vets. The children enjoyed role-playing taking their 'pets' to the vet to be looked after by our Cherry class Vets. We then decided to make a bus to go on journeys around the world. "I'm going on holiday," said Olivia and she showed me the bus ticket she had made. Christopher made sure everyone was sitting down before he set off driving the bus. "I want to go to the beach," Patrick told the bus driver.
We've also been exploring how we can make 5 in different ways. "Four and one make five," Kray told us, showing us his fingers. Charlie worked out how to make five starting by using a three Numicon "You need a two", he said. "Three and two make five."
We've been reading the Easter story and using our creative skills to make a cross to remember Jesus. "Jesus, died about the cross," said Charlie and Lucy says, "Jesus is an angel."