Nyewood CE
Infant School
Smiling, Caring and Learning Together on a Journey with God
Cherry Class Blog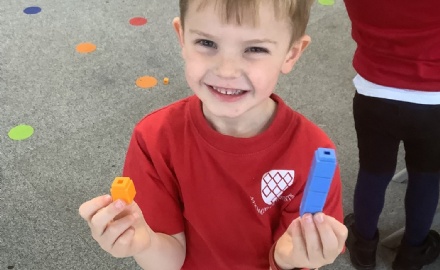 It's the end of the term already! We've had a really busy learning term and the children have made amazing progress.
This week we have been practising letter formation. We started off by doing some exercises to strengthen the muscles we use for writing and practised holding our pencils using the "tripod grip". We then had a go at writing beginning with our "Curly Caterpillar" letters: c, a, g, d, e, f and s.
We continued reading and talking about the Easter Story. We did some 'hot seating' where Miss Chandler pretended to be Jesus and the children asked questions: "Why was Jesus put in the cave?" asked Charlie. "Why did you go back to God?" Connie wanted to know.
In Maths we continued exploring number bonds using Unifix and Numicon; "Four and one make five," said Owen.
Have a great Easter and don't forget we start back on Tuesday 26 April next term. PE will still be on Monday each week so can the children please come in their PE kits on Mondays.