Nyewood CE
Infant School
Smiling, Caring and Learning Together on a Journey with God
Fun in the Snow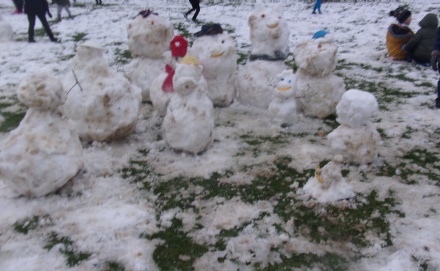 "We went outside to build a snow family." Esme.
"We played in the snow." Grace.
"This is the first time I've ever made a snowman!" Beth.
The children of Oak Class had a great time in the snow and worked together really well to complete not just one snowman but an entire family of snowpeople!
Read on to find out what else we have been up to this week:
"We played a game in Mathematics; rolling a dice and making six." Edward. (This game is on the Nrich website if you want to try it at home: https://nrich.maths.org/7337).
"We are reading the Owl who was Afraid of the Dark." Owen. The children are responding really well to this well-loved tale of a barn owl called Plop.
"I have been writing about foxes." Cooper. The children have created some informative reports all about the animals they have become experts on. They know some interesting facts:
"Owls hide their ears." Milana.
We are looking forward to our RSPB visitor next Wednesday, don't forget to be dressed for the outdoors that day; warm coat etc...
It's great that so many of you have signed up for parent consultation evenings. Please see us if you still need to make an appointment.