Nyewood CE
Infant School
Smiling, Caring and Learning Together on a Journey with God
Miss Rice and Mrs Slingo here!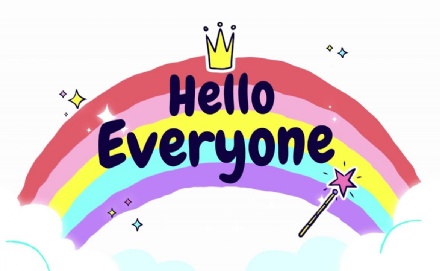 A great big "Hello" to you all – it's Miss Rice!
I hope you are all OK and keeping safe! I am OK and keeping myself safe too! I have also been keeping myself busy either working or doing many activities around my house. Some days I have been working in school with the children that come in and some days I have been working from home. We have been up to lots of different activities! We have been doing the blog learning just like some of you might have been doing at home and some other fun activities too like scavenger hunts, marble pictures, obstacle course making and much more! Mrs McCormack also helped us discover 'Jump Start Jonny' who is a bit like Joe Wicks. You might want to take a look at him too – he is very funny!
When I haven't been at school I have been doing lots too! I made lemon drizzle cake for the first time and chocolate tiffin which was my favourite! I've also planted some seeds in my garden, written letters to my neighbours in case they need my help, taken part in quizzes with my friends through our phones and computers, had a really big clean and sort out of my whole house and watched some films, played some games and completed a puzzle! The puzzle I completed was a photo puzzle and it had my face on it! It took two of us one and a half hours to complete it – there were 500 pieces! Can you see my face in the photo?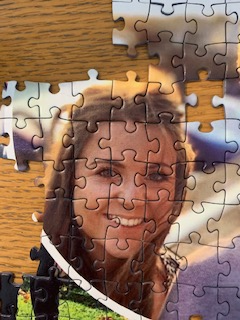 I am definitely missing all of you and watching you continue to grow and develop at school, but I am sure you are all continuing to grow in many new ways at home. I have loved seeing what you have all been up to too!
Keep safe and look after yourselves and your families,
Miss Rice :)
-------------------------------------------------------------------------------------------------
Hello to all the Nyewood Family
It's Mrs Slingo here. I am certainly missing everyone and school is strangely quiet.
Some days I have been in school and have enjoyed being creative with the children. Whilst I have been at home I have enjoyed spending time with my family and trying things that we don't normally do. My kids have even been in the kitchen cooking and baking! My favourite things they have made have been apple and cinnamon crumble that my son made and fork biscuits that my daughter made, delicious. I have also been in my garden painting fences, clearing the flower beds and planting new plants. Yesterday Mr Slingo and I put a bird table up in the garden so I am hoping to be able to see and all the small birds that live around us better (just incase anyone remembers I am a bit unsure of birds flying near me but, I will not be afraid of them as I can watch from a distance in my kitchen.)
This morning in school I have drawn a picture of a penguin from Rob Biddolph's website with the children in school.
I hope you are all well and maybe some of you have been learning some new skills too, I have loved seeing some pictures of you.
Today's joke...
Why is 6 afraid of 7?
Because 7 ate 9!
I can't wait to see you all soon.
Take care
Mrs Slingo