Nyewood CE
Infant School
Smiling, Caring and Learning Together on a Journey with God
What an Exciting Week!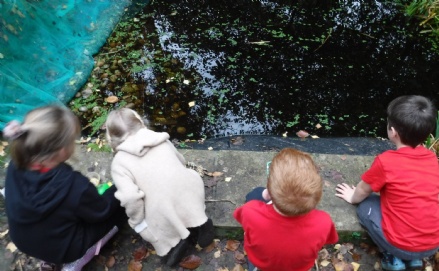 Expressive arts afternoon
This week has been really busy. We had our Expressive Arts and Design Afternoon. We all got to take part in two different creative tasks. As it is November and we have been seeing lots of fireworks around, we made our own beautiful fireworks. We cut shapes out of black paper and then chose different colour tissue paper to make our fireworks.
We also used nature in our pictures. We found beautiful fall leaves outside, used these to make paper leaves and then coloured over them using chalks. We are very proud of our amazing leaf art!
Woodland Wednesday
In Woodland Wednesday's this week we explored the conservation area. We dug through the fall leaves and found lots of different mini-beasts. We also talked about fire safety. Then we used a flint and fluff in a shell to start our own camp fires!
Maths investigation
In Maths this week we completed the investigation 'Your hands are the same length as your feet. True or false'. We investigated this, choosing our own equipment to carefully measure our hands and feet and compare these.
We have also been completing different maths problems. Try this game at home!