Nyewood CE
Infant School
Smiling, Caring and Learning Together on a Journey with God
Hello from Mrs Merrick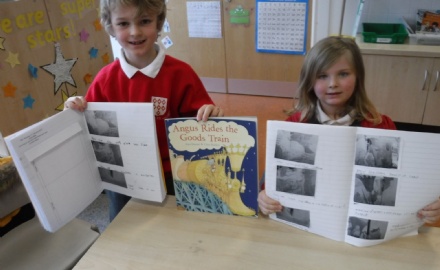 Hello Everyone,
Hope you are all well.
Each morning I have been thinking of you all when I've been doing Go Noodle 'I'm still standing' song and the guitar bit comes on. I look forward to when we can do it all together again.
I hope you have all enjoyed your weeks learning finding out more about transport.
In school we have been looking at trains and finished off reading the book 'Angus Rides the Goods Train' I think Angus is following the Nyewood Promises of Caring and Sharing the why we do in school and at home with our families. This book made me feel warm and fuzzy inside.
Other things I have been enjoying lately with the cold weather is walking on the frozen grass hearing crunching under my shoes. As lots of you know I love the outside. I hope you have managed to enjoy it too.
Lastly I have a joke for you all
What snakes are found on a car?
Windscreen vipers!
Hope you enjoyed it next time we see each other maybe you could tell me one of yours.
See you soon.
Mrs Merrick