Nyewood CE
Infant School
Smiling, Caring and Learning Together on a Journey with God
Hello from Mrs Merrick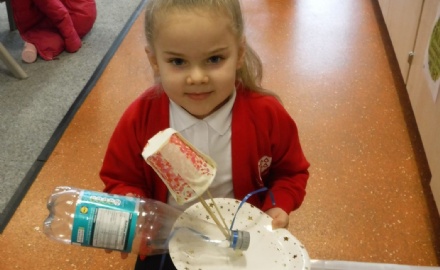 Hello Hawthorn Class,
I hope you are all well.
This week's learning in Maths we have continued looking at fractions. Did you use food to cut up to help you? I liked doing that, I could eat it afterwards. Yummy! Can you guess what food I used? Bet you can! I'll give you a clue I wished I'd chosen a healthier options afterwards.
In our writing we have been planning out what Angus might write in his diary about his train journey. What feelings did you include in your plan? How do you think he was feeling?
Also this week we have been looking at boats and seeing if we can make one. How have you made yours? Did you use a plastic bottle or a piece of wood? Next week we are going to see if they float!
Finally I have 2 jokes for you this week as I couldn't deicide.
What do you call a fish with no eyes?
A Fsh!
What do you call a cow that can play the guitar?
A moooo-sician!
Hope you have great weekend and I look forward to hearing about your learning next week.
Take Care.
Mrs Merrick​