Nyewood CE
Infant School
Smiling, Caring and Learning Together on a Journey with God
What a busy week!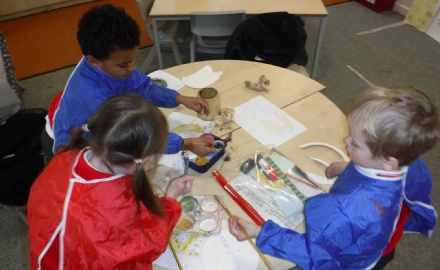 Wow what a week we have had!
We have been jolly busy enjoying our learning both in school and at home.
We have made animal masks inspired by Maya Masks carefully looking at the detail of the animals.
Which animal did you choose? I chose a frog as I've been looking out for frogspawn this week in the ponds.
We also have been dotty spotty when creating our own aboriginal dot paintings these have been Wowsers Trousers amazing! Well done all of you.
On Well- being Wednesday we wrote down what we may be worried about and acts of kindness. How we can be kind to others. Did you think of how you can be kind to someone?
On Thursday it was World Book Day. What is your favourite book? Can you remember what mine is?
I will give you a clue. She is also the author of Cave Baby that Mrs Mitchell read on Well-being Wednesday blog.
It is a Julia Donaldson story that I have read on the Facebook page.
He likes telling stories. ' But ? was a fish with a big imagination. He blew small bubbles but he told tall tales.'
Have you guessed yet? He was always late for school!
He had a friend called Little Johnny Dory.
He tracked down his tale to get home again.
Have a think and see if you can guess the book.
Did you get it? TIDDLER The story telling fish.
He told lots of stories did you manage to write your own story on World Book Day I bet you have a big imagination just like Tiddler. I look forward to hearing all about your stories when we get back in to school.
What kind of horse can swim underwater without coming up for air?
A seahorse
Hope you have a relaxing weekend we look forward to see you on Monday
Best Wishes
Mrs Merrick