Nyewood CE
Infant School
Smiling, Caring and Learning Together on a Journey with God
A super busy week!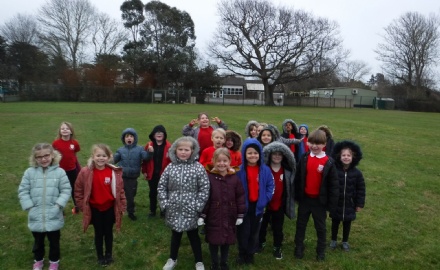 This week in Woodland time we looked at the pond for different signs of life. We saw pondweed and pond snails but unfortunately, the frogs were hiding. We did see lots of frogspawn! We also looked for different spring flowers and other signs of spring.
In Re we have been learning about the Easter story. We have talked about Easter symbols and why these are reminders of Easter.
Hot Cross Buns- 'because they have a cross on them and Jesus dies on the cross'
Easter eggs- 'because they show new life like when Jesus came back to life'
Palm crosses- 'Because palm leaves were waved at Jesus when he went into Jerusalem.
In Wellbeing time we went to the field. We ran to other end and listened carefully to the sounds around us. We closed our eyes to listen more carefully.
In science we used our knowledge of materials to build strong bridges...
In Maths we have been learning about addition. We used dienes and numicon to help us to add two numbers together. We have also been adding three 1-digit numbers! We have also been working on our number bonds. Check out this game:
Hit the Button - Quick fire maths practice for 5-11 year olds (topmarks.co.uk)
In writing we have been working on our core skills. Some of us have been learning about exclamation and question sentences. Some of us have been working on using capital letters and full stops correctly.
We have been talking about how to play nicely with others. We have been playing nice games and have thought about how to be good friends.
Have a great weekend!