Nyewood CE
Infant School
Smiling, Caring and Learning Together on a Journey with God
Superworm and Mini-beasts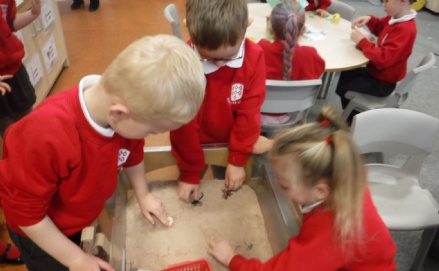 This week in writing we read the story Superworm. We explored outside and the sandpit looking for real and fake mini-beasts. We thought about what they look like and how they move and came up with adjectives to describe them.
In maths we learnt about 3D shapes. We matched these to real life objects that look similar and started to name some of them. Some of us sorted them into groups and then talked about their properties. Do you remember how many faces a cube has?
In geography we used our fieldwork and science skills to explore the school grounds. We wanted to answer the question: Where will we find the most mini-beasts? We used hoops to create search areas and observed closely. Then we recorded and talked about our findings. Can you remember where we found the most?