Nyewood CE
Infant School
Smiling, Caring and Learning Together on a Journey with God
A Big Welcome Back!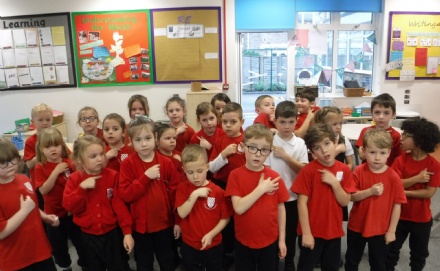 Welcome back to the start of a new year!
This week we have been learning to count in 2s, 5s and 10s. Some of us even started to count in 3s! We used 100 squares to help us. We are going to use this to help us with our multiplication next week.
This week was Diversity week. To celebrate this we learnt some British Sign Language and used this to help us to recite a poem about why Hawthorn Class is so special. Can you remember these signs?
They are the signs for 'special', 'we' 'friends' and 'because'.
In PSED we talk lots about why were are special. We shared our gifts and talents. We also talked about how each of us is different and unique and how this makes us special too. We also talked about stereotypes. Can you remember what this means? We said that sometimes people think that girls and boys have to like certain things, like colours. We said that it was ok to like whatever we want to like!
'I'm a girl. I like cars and I like fairies. That's ok!'
'I'm a boy. I like pink sometimes because my favourite football team have a pink kit!'
'My sister doesn't like pink but she still likes to wear dresses, just not pink ones.'