Nyewood CE
Infant School
Smiling, Caring and Learning Together on a Journey with God
Addition, adjectives and ...a really fun time!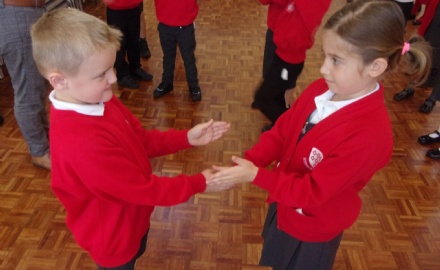 Time is flying by and we are already in our fourth week of Year 2!
This week in writing we continued our learning about adjectives. We watched a clip of the wild rumpus from 'Where the Wild Things Are' and used special reporter's note pads to make notes of adjectives and ideas to use. We then shared these with our friends and 'magpied' ideas from each other. We have been thinking carefully about all the different ways of describing something and used a senses chart to help us think about the look, sounds, feel etc...
Mathematics has been challenging this week but we have been very positive and reminded ourselves WE CAN DO IT! We have been looking at addition of both 2-digit and 1-digit numbers bridging tens. We have used Dienes and a tens and ones grid to help us find the answers. See if we can show you how to solve this one at home!
24 + 37 =
We always get very excited for Wednesday mornings as we have music with Mr. Mott, this week we learnt a new song which had a hand shake to go with it. We practised singing in both a high and low pitch. Even more exciting this week, we used un-tuned instruments to follow a beat. Some of us shook our instruments while others tapped or scraped to produce the sound.
In guided reading we have continued to look at summarising. We chose a story of our choice and spent a lesson reading it, then the following lesson in our 'Hazel Summary Show' we shared a brief outline of what happened in the story with the rest of the class. We learnt lots about many different books!
Some take home tasks have started coming in to school and it has been exciting to look at the different ways people are creating their forests!